The Directorate General of Traffic (DGT) has presented this Thursday in Oviedo during the celebration of the 'Jornada Seguridad Vial en la Empresa 2022', the Seal of Safe Mobility in the Company, a distinction that was already launched in Asturias in 2016 and that, now, aims to promote throughout Spain as public rebirth to companies that are committed to reducing workplace accidents within their prevention plans.
¿How can the Seal be obtained?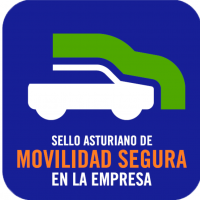 It will be necessary to comply with a series of general requirements, among which is the presentation of a Mobility Plan in the company in accordance with the obligations set out in the standard Plan for safe and sustainable mobility in the company drawn up by the DGT in collaboration with the National Institute for Health and Safety at Work.  The aim of this plan will be to improve road safety in the business environment, to reduce both the risks related to journeys in itinere (the route taken to the workplace), as well as those that occur during the working day when workers are carrying out their duties.
As reported by the DGT, in 2019 there were 77,496 traffic accidents at work in total, of which 232 were fatal (98 on mission and 134 in itinere).
This seal will be valid for a period established by each Autonomous Community, although it has been proposed that it should be valid for four years and that a follow-up report should be carried out every two years to achieve uniformity of criteria at the national level.
Companies that achieve this Seal will be able to use it in any of their communications and, as a support tool, free seminars and workshops are planned for the implementation of the Safe Mobility Plan.
🗣️Pere Navarro, director #DGT: "En 2019 hubo 232 fallecidos por siniestro vial laboral. Quien quiera reducir los accidentes de trabajo en España va a tener que reducir los de tráfico" Jornada de Seguridad Vial en la Empresa 2022 con @INSST_MITES_GOB @GobAsturias #JPT #Asturias pic.twitter.com/UTjxRHcbuJ

— Dir. Gral. Tráfico (@DGTes) February 10, 2022
As mentioned above, Asturias was the first region to implement this initiative. Cantabria has also followed this model through the Cantabrian Safe Mobility Seal and the DGT's objective is for the rest of the communities to implement this badge as a tool that will serve to recognise and incentivise occupational road safety management.